Jetpack is a suite of WordPress tools that allow you to secure, accelerate and extend your website. This security plugin lets you secure your website, applications and ensures protection against brute force attacks.
It gives your visitors a faster page load times user experience if you use Jetpack's lightning-fast Content Delivery Network (CDN). In addition, the tool helps you increase your website traffic through automatic social sharing.
Jetpack's core features are available free of charge to users. If you want more advanced features such as daily backups and malware scanning, premium plans are available.
Who should use Jetpack?
Jetpack is suitable for any brand or even personal website that uses WordPress. If you want one tool for website design, traffic boosting, and security, Jetpack is the right solution. Jetpack has been built by the same people who are responsible for WordPress and liable to keep this plugin fully up to date..
How to install Jetpack Plugin?
Jetpack is compatible and works fine with WordPress hosting which is right according to the mandatory requirements. The WordPress version must be the latest one.
Jetpack can be installed from the WordPress administration section. Simply click on "Plugins", click on "Add New". Look for Jetpack and finally click the "Install Now" button: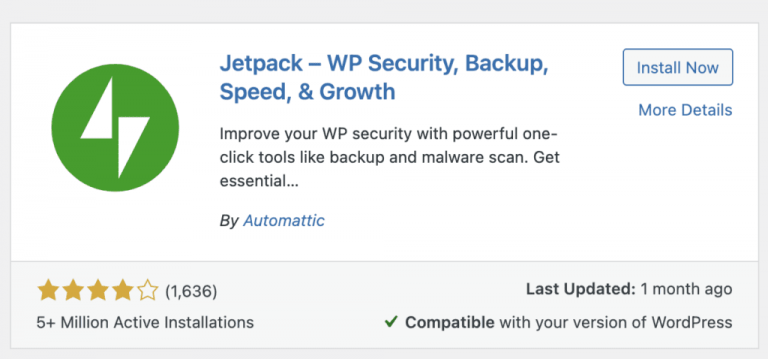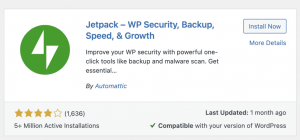 Click the "Activate" button and get prompted to set up the Jetpack plugin.
Select a Jetpack plan or choose the "Start with free" option.
Does Jetpack integrate with other WordPress plugins?
Yes, Jetpack integrates with the best WordPress plugins. These integrations can help improve the functionality of your site.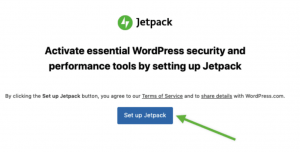 For example, you can connect Google Analytics to track your customers' behavior and improve your marketing efforts. Or integrate with Gravity Forms to get feedback from your customers.
You have the freedom to choose Stripe and PayPal to process your payments after proper integrations of the plugin.
The 5 reasons why you should use the Jetpack plugin
Still not sure if you should use Jetpack? Check out these five reasons why you should give this plugin a try.
Automated security threat scanning
In this age of technology, security threats are an unavoidable reality. Hackers try to steal data from brands large and small every day. Jetpack understands these ongoing challenges and offers its customers automated malware scanning.
Most security problems are fixed with a single click. The plugin is fully featured and automatically scans your website on daily basis to detect anything suspicious, from malware to strange code, and sends you an email as soon as it detects a threat.
Trusted site backups
Your website is an investment in your brand. You've spent countless hours creating the perfect online experience for your customers. Jetpack ensures automatic, real-time site backups.
Jetpack also offers one-click restoration. So if your site ever goes down, you can get it back online in seconds. This feature is effective for e-commerce stores, where every minute can potentially mean lost sales. This plugin also provides unlimited storage of site backups.
Customizable search for visitors
Customized site search is another powerful advantage for e-commerce stores. When shoppers arrive on your site, they want to find a specific product quickly.
JetPack is equipped with a customizable search function that gives your visitors instant search results. Thanks to advanced ranking algorithms, shoppers will get relevant results that match their search intent.
The Jetpack plugin also comes with a feature of the filtered search. This allows your visitors to filter by tags, categories, or even dates, improving the overall customer experience.
Improve your SEO performance
Search engines like Google and Bing play a big role in how people find your website. Potential customers type in keywords to find the right solution for their needs. For your brand to attract these people, you need to rank highly for specific keywords.
Jetpack supports you by checking your site's performance to make quick improvements. The tool optimizes your CSS structure to increase speed, strips out irrelevant JavaScript to make your page load faster, and only loads images that your visitors can see.
Traffic growth statistics
Growth is what every company strives for. When it comes to traffic growth, you want to know exactly how many visitors are visiting your site, where they are coming from, and what they are reading.
About the author
DMTwebhosting.com's Editorial Team prides itself on bringing you the latest web hosting news and the best web hosting articles!
You could also link to the news and articles sections:
http://www.DMTwebhosting.com/blog
https://www.facebook.com/DMThostingOfficial/