When comparing the best web hosting sites to choose the best hosting company for your website, you need to consider the following:
Which operating system you need
Which control panel you prefer
What type of hosting meets your requirements?
What level of technical support you may need?
Where is the server location and how it is connected to the Internet?
Whether past and present customers are satisfied with a hoster
1-Operating systems
The two most common operating systems for web servers are Linux and Windows. Linux web servers, which run Apache for the webserver, MySQL for databases, and PHP and Perl as programming languages, are the most common. There are a large number of applications and scripts for Linux web servers. However, if you want to use ASP pages or use Microsoft SQL Server as a database instead of MySQL, you should get a Windows-based server.
2-Control Panels
Most of the best web hosting sites offer a control panel that allows you to easily control your site hosting account. With control panels, you can easily view website statistics, manage databases, check server status and manage email accounts, website updates, and access.
If you don't prefer any other control panel, cPanel is probably your best choice. It is the most popular and many webmasters find it the easiest to use. It is seen that most of the best web hosting companies offer cPanel as an option, especially in the case of VPS and dedicated servers.
3-Types of hosting
There are different types of web hosting that are mentioned below:
Shared hosting,
Reseller hosting,
Virtual dedicated hosting (also known as a virtual private server),
Dedicated Hosting and
Colocation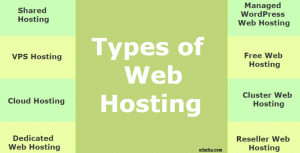 Most of the best web hosting sites offer some or all of these types of hosting, so you will need to decide what best suits your needs.
If you want to host a single domain that doesn't have large storage or bandwidth requirements, shared hosting is the most economical. In a shared web hosting environment, your website is liable to share server space and resources with many other websites.
While you can host multiple domains with a shared hosting account, if you need to host multiple domains of your own or want to resell web hosting, reseller hosting may be better suited to your needs. Reseller hosting is usually shared hosting with more resources and an additional control panel for easy configuration of additional domains.
If you have high bandwidth or server resource needs, you may need a dedicated server. With a dedicated server, you don't have to share server resources with anyone. Only your domains are hosted on the dedicated web server. You also usually get full control of the server with administrator or root access.
You may even consider a virtual dedicated server as well. A virtual dedicated server is similar to shared hosting in that there is more than one user on a server, but each user gets a guaranteed share of server resources. If another user has a busy website, this should not affect your website.
If you would rather own your own server hardware, consider colocation. With colocation, you own the server and the web host only provides the rack space, network connectivity and bandwidth, and hardware support for the server.
4-Technical support
With shared hosting and reseller hosting, your web host is usually responsible for managing the server, installing server software, applying security updates, and providing technical support (for you, not your customers).
With dedicated or virtually dedicated hosting, a web server can be managed or unmanaged. Unmanaged is the most common, meaning that you are responsible for all server maintenance, upgrades, and patches, with the exception of hardware support, such as for new boards or new drives. Managed support means that the web host (or a third-party management service) helps manage or partially manage the server.
Different hosts offer technical support in different ways. Some require you to report a problem by email, others have a support ticket system, and still, others have a toll-free phone number. Even among the best web hosting sites, not all offer phone support. But if your website ever goes down, you might wish you could call and speak to a live person!
About the author
DMTwebhosting.com's Editorial Team prides itself on bringing you the latest web hosting news and the best web hosting articles!
You could also link to the news and articles sections:
http://www.DMTwebhosting.com/blog