Advantages of using WooCommerce?
WooCommerce is attracting more and more professionals for the creation of online shops. Here are some of the benefits the extension offers:-
1-The possibility of selling any type of product
2-Thanks to WooCommerce, you can sell any type of product from your online store.
Whether physical products, digital products or subscription offers, you can offer them on your shop in WordPress via the extension.
A totally free Plugin
One of the biggest advantages of WooCommerce is that it is completely free. You can optimize its efficiency by using free extensions, but you can also choose Premium extensions for more efficiency. With these additional extensions, you can significantly improve the functionality of your online store, particularly in terms of billing, delivery and payment.
Some plug-ins also allow you to boost your marketing operations or your campaigns through social networks. An API store is also available to allow developers and companies to access a complete catalog of extensions. Some of these extensions are free and others are paid.
Ease of use: WordPress
If you are familiar with WordPress, you will have no trouble using Woocommerce, this extension offers easy handling and you do not need any special skills to understand how it works. However, if you want to exploit all of its performance, you must take a few hours to identify, among other things, all the options integrated in the plugin.
Choosing the Right Theme for Woocommerce
If you want your WordPress online store to be up to your future customers, choose a theme compatible with Woocommerce. Thus, you do not run the risk of encountering incompatibility concerns. Indeed, the theme of your e-commerce site drives its design. As for Woocommerce, this plugin adds many features to the CMS and problems may arise if the theme you are using is not compatible with certain features. To avoid such a situation, choose your theme carefully.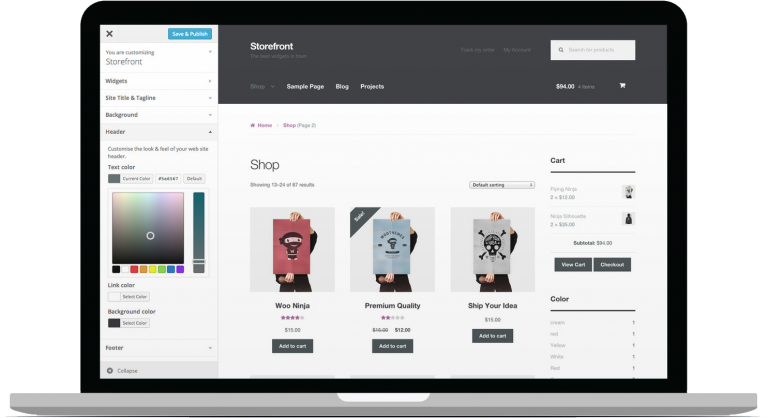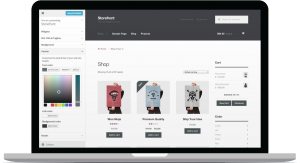 Order a paid theme from WooThemes, the publisher of the Woocommerce extension. The paid Woocommerce themes available from this firm are of high quality and will meet your expectations. Choose a theme in the WordPress back office. The WordPress themes available there are of high quality including those which are free.
Many payment options on display
Thanks to Woocommerce, you will have classic payment methods to make available to your future customers such as the bank card
"WooCommerce" comes standard with PayPal (to accept payments by credit card and PayPal account), BACS and cash on delivery in certain countries. Multiplying the means of payment offers several options to your potential customers and improves your conversion rate.
Several delivery and logistics options are possible with the extension. Do not hesitate to offer two or three to your customers.
Full control of your e-commerce site
It is difficult to find an e-commerce solution that allows you to have total control of your online store. Woocommerce offers you this opportunity and thanks to this plugin, you are completely free to make modifications and updates for your online store. This is valid both in terms of operation, available means of payment and design.
How to use Woocommerce?
If you have decided to use Woocommerce for the creation of your online store, you must start by creating your site from the WordPress CMS. As a reminder, Woocommerce is an extension of the CMS and to be able to use it, you must first use the platform.
Once you have created your WordPress site, you will need to choose a reliable host such as "DMT Web Hosting". For the hosting part, choose an efficient solution, because an e-commerce site uses more resources than a simple blog. At a minimum, you should use shared hosting that allows you to access more memory. If you have the means, and the ambition to create a site with high traffic, opt for dedicated hosting especially if you plan to redirect a large number of visitors to your sales pages (Bandwidth). 
After finding the hosting solution that meets your expectations, choose a domain name that highlights your business, avoid meaningless nonsense, focus on the heart of your business to find the name that will give you an advantage in terms of natural referencing. Once you have chosen your domain, you can technically launch your site. At this point, you have taken the first step of creating your online store on WordPress and you can now proceed to the next step which relates to the installation of Woocommerce. 
To be able to use the Woocommerce extension and create your e-commerce site by the same, go to the extensions tab which is visible on the dashboard of your WordPress site. Then click on "Add" and enter Woocommerce in the extensions search bar.The plugin appears then click on "install now". At the end of the installation, activate it. Now launch the WooCommerce wizard so that you can make the first adjustments. After the first adjustments, install your pages by generating them automatically. You will always have the opportunity to customize them later. You can manage the pages created from your WordPress dashboard and you can even choose the one you want to display in your Woocommerce store. 
After the pages, specify certain information such as "the location of your shop", the currency you use or the units used. Indicate the delivery details in the following configuration tab as well as the tax information. The last step of the settings relates to payment. Start by adding "PayPal" as a payment method. You can then add more. Once you are satisfied with your settings, you can validate and your store will be ready to go online.
Is Woocommerce the right e-commerce solution for you?
If you want to answer this question objectively, you need to compare it with other solutions. The best known is Prestashop which is the most used CMS worldwide. So the question that arises now is Woocommerce or Prestashop?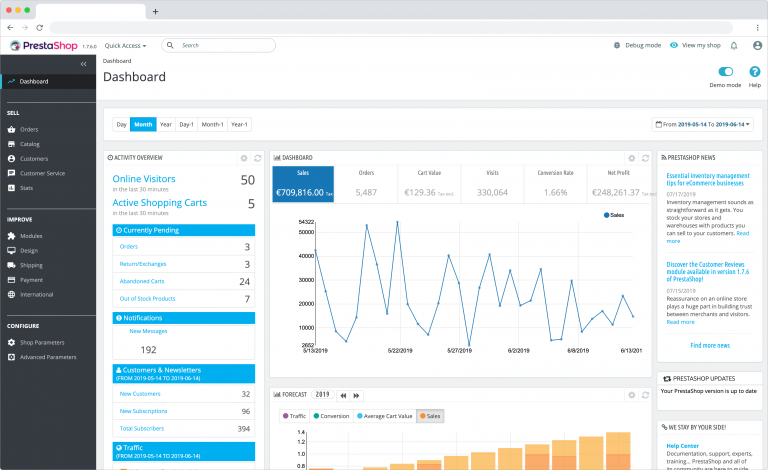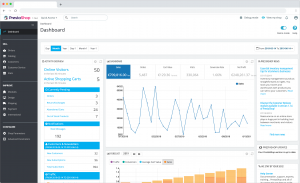 The big difference between PrestaShop and WooCommerce is the fact that PrestaShop is an independent CMS, while WooCommerce is a proprietary WordPress plugin. PrestaShop being open source, the possibilities of creating shops are practically unlimited. Thanks to the popularity of the WordPress giant, Woocommerce benefits from high visibility. Its ease of use and integration and the possibility of very easily managing its products make it a relevant choice for beginners who already use "wordpress" for a blog for example.
There are still some weak points on Woocommerce like the multilingual mode which is managed via another plugin. Managing taxes by country is also relatively tedious.
Finally, among the black spots of Woocommerce is the impossibility of managing several shops from a single dashboard. Regarding Prestashop, the whole is rather complete with an optimized inventory management, the possibility of managing multiple stores on the same interface and a good off-season with platforms like Amazon.
Woocommerce with Wordress is therefore the choice of ease and is aimed at small shops with low / medium volumes. It is also the least expensive solution.
Prestashop is aimed at those with more specific needs and for large sales volumes as well as the need to have several stores managed on a single interface.
It's up to you to choose between these two solutions!