In the United States, despite the increase in e-commerce sales for several years, they only weigh 7.7% of total sales made by distributors in the first quarter of 2016.  This shows that the e -commerce keeps a strong margin of progression with regard to catching up on the sales of traditional distributors. To determine which direction this growth will take, we have analyzed current trends in E-commerce and their impact on the market.
1) New products to conquer the market
According to eMarketer, consumer electronics is the category of products with the best sales on the internet. The graph below shows the share of total consumer electronics sales made online in the USA between 2012 and 2014.  Given the already high figure for this category, its growth prospects are limited and should therefore not be a growth engine for e-commerce.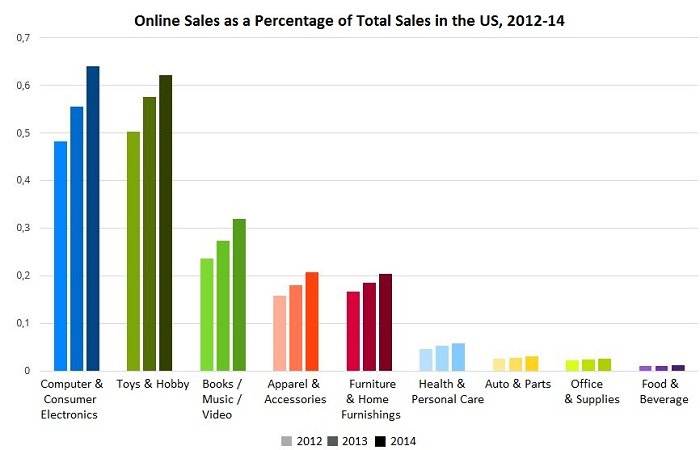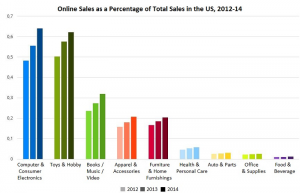 The following graph, produced by eMarketer, gives us total online spending forecasts by sector in the USA until 2018. 4 This study forecasts stable growth in all sectors in the wake of the development of e-commerce. On the other hand, this graph does not take into account the possible arrival on the market of new entrants which, without any doubt, would upset the market in particular with regard to categories with a relatively low market share. Indeed, their market share could suddenly increase. Take the example of food & beverage, where only 1% of total sales in the USA are made online. In 2015, this 1% represented $ 7.9 billion which means that the American food market was valued at $ 790 billion. Very quickly, some companies will seize the opportunity after realizing the gap that exists between the traditional and online food market, thus taking advantage of the vast growth prospects in this sector. As such, the recent appearance of an actor like HelloFresh or even more revealing, Amazon Fresh supports this analysis.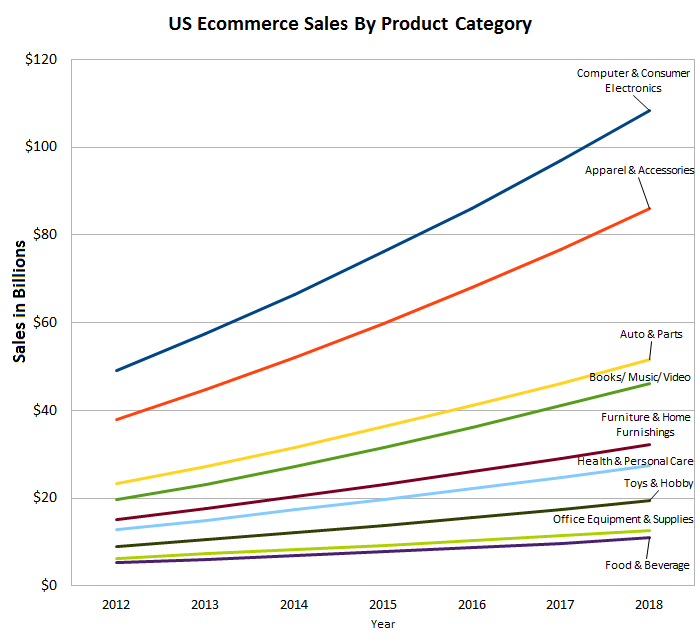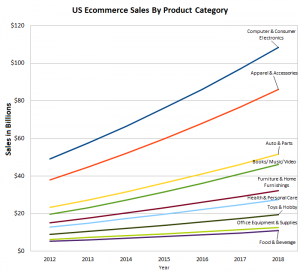 Trend in Ecommerce sales by category
We anticipate that the most significant growth will be in food since only 1% of total sales in this large market are made online, with others like consumer electronics reaching their peak.
2) Emerging countries, future heavyweights of e-commerce
As the graph below shows, globally, emerging markets are playing an increasingly important role in e-commerce. According to eMarketer, the Asia-Pacific region is the region generating the most income, surpassing North America in 2014 with an amount of $ 525.2 billion against $ 482.6 billion for the latter. In fact, according to Forrester, the e-commerce sector in the Asia-Pacific region should generate turnover of $ 1.4 trillion in 2020, including $ 1.1 trillion for China alone. eMarketer attributes this growth to the technological development of the region, allowing many consumers to shop online for the first time.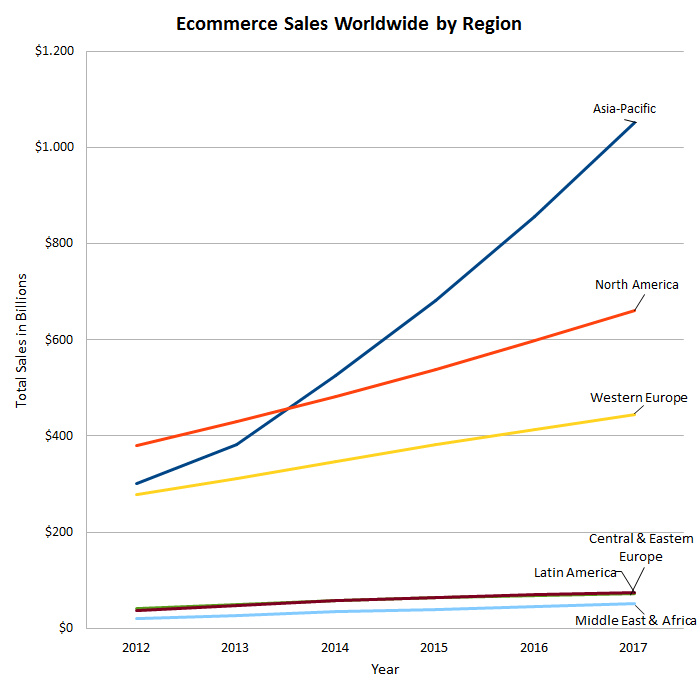 Online Sales Worldwide
The following graph translates data collected by eMarketer concerning the countries with the largest increases in the e-commerce sector. Here too, there is a well-known trend, with emerging markets enjoying more sustained growth than mature markets. China, Indonesia, and India are growing at the highest rate and are contributing significantly to the expansion of e-commerce in the Asia-Pacific region. However, the growth of e-commerce in all countries is tending to subside, with global sector growth expected to reach 7.5% in 2017.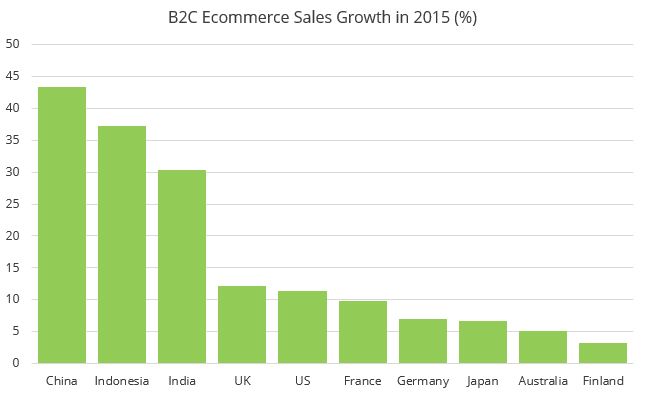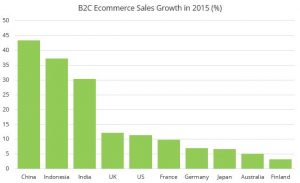 Future of Ecommerce: B2C Ecommerce Sales Growth Country
The Chinese ePacket system allows Chinese companies to deliver to the United States. This idea starts from an agreement between the Chinese and American posts. This system allows Chinese e-tailers to send packages quickly and inexpensively to the United States. This also means that international delivery is no longer an obstacle for the development of Chinese e-merchants in the USA. The ePacket system will allow Chinese distributors to expand their potential customer base, thereby giving a significant advantage to the e-commerce giant Alibaba which can boast of competing with Amazon on its own land. The latter responded by launching Amazon Fulfillment by Amazon Small & Light Program, in order to reduce shipping costs on light and / or small objects such as laptop charger cables and therefore compete with the ePacket system. The trade war between Amazon and Alibaba will push these two e-commerce players to develop new offers in order to always better serve their customers.
We predict that the Chinese market will continue to grow faster than the others since e-commerce is still fairly recent in the country and that Alibaba will be the N ° 1 in the sector for Asia-Pacific.
3) Will Amazon and Alibaba resist in the face of new market trends?
The big question today is whether Amazon and Alibaba will dominate the e-commerce market or whether independent e-merchants will manage to maintain their share of the online market. Amazon is on the move to offer the best delivery service to its customers. Its competitors too, are experimenting with new solutions in terms of delivery, for example Walmart, which has teamed up with Uber to counter Amazon Prime. However, Amazon's ability to deliver to its customers quickly will not stop there since the American giant will continue to develop its Seller Fulfilled Prime system. This means that high-performing third-party distributors using Amazon will be able to deliver via Amazon Prime. In addition, the Seattle firm is currently working on the development of drones for the delivery of small packages and continues to expand its locker fleet, thereby facilitating the receipt and return of packages for customers.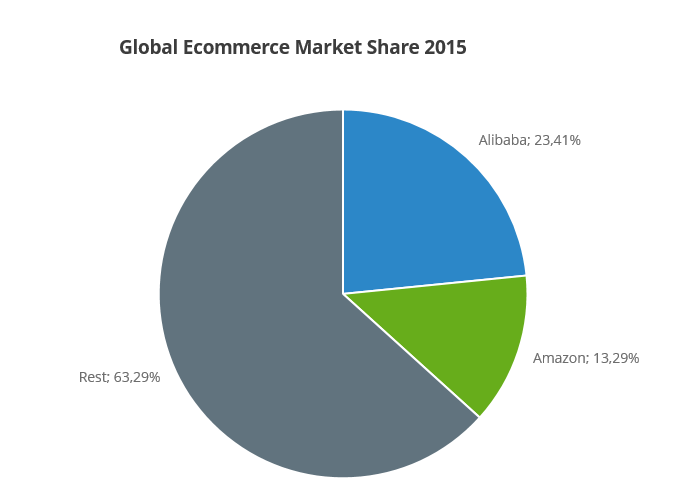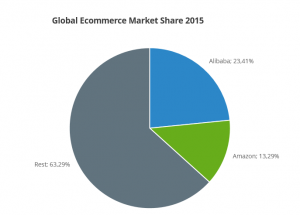 While Amazon and Alibaba dominate the electronics and book segment, one wonders if they will experience the same success in other segments. Indeed, if electronic devices and books do not need to be exposed, it is different for other consumer goods such as food or fashion. A competitive pricing strategy combined with an efficient delivery service is not enough or is less essential on these other segments.
4) Online marketplaces vs. direct sales sites, which business model will prevail in e-commerce?
Obviously, there are advantages and disadvantages for both marketplaces and direct sales sites. While the latter make the difference with a quality customer experience and relationship, the former allow customers to compare prices quickly and easily.
Marketplaces continue to grow and become more and more popular among customers who are always looking for the best deal possible. According to Internet Retailer, Amazon and eBay accounted for 27% of online sales revenues in North America.  In addition, we note that marketplaces represent an opportunity for rapid growth for the smallest distributors. There are several reasons for this: first, they can offer their products on marketplaces with a higher number of visitors. Second, consumers generally do not trust little-known distributors. If an unknown brand sells its products via a marketplace, customers still benefit from guarantees from the marketplace in question (for example eBay Buyer Protection), so they have more confidence when dealing with sellers less known.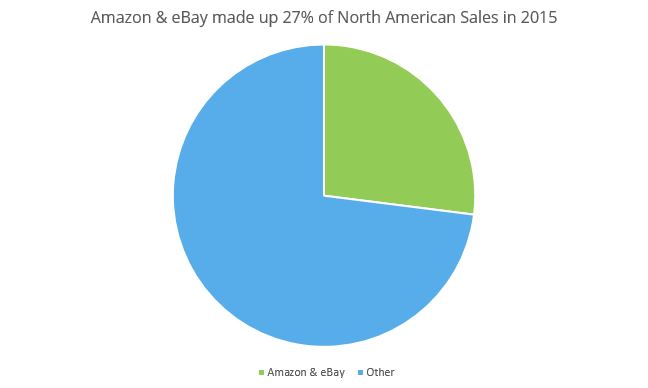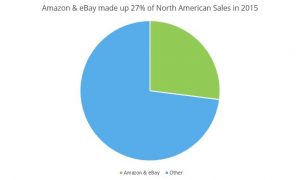 Market places will continue to grow in the future. Statistics collected by Volusion show that distributors plan to spend 32% more in 2016 to sell their products via marketplaces.
5) Is the future of e-commerce mobile?
Internet traffic on mobile devices is increasing and more and more customers are accessing digital content via applications, smartphones and tablets. However, consumers still prefer to shop on computers and tablets while a smaller proportion shop on a laptop.
The following diagram show us e-commerce internet traffic and e-commerce income in the United States in 2014 by type of device.  While PCs represent 55.7% of traffic, their share in e-commerce income amounts to 75.1%. Regarding smartphones, they represented 29.9% of traffic for only 11.2% of total income. In other words, around a third of smartphone customers actually buy on this type of device. Finally, 14.4% of traffic came from tablets and represented 13.7% of total sales.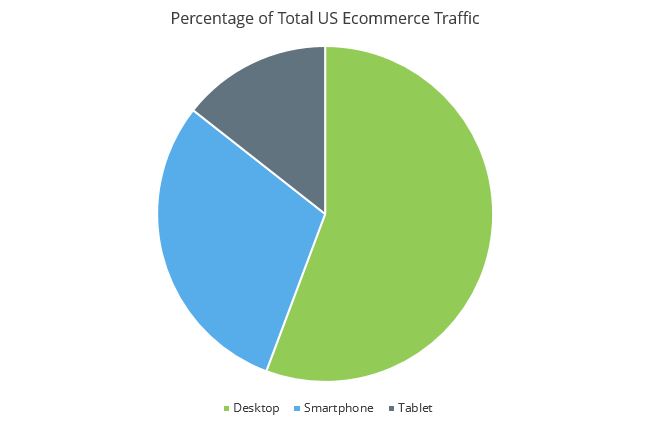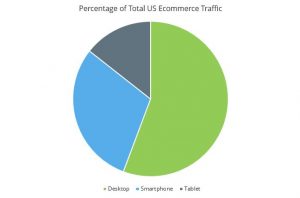 Mobile Ecommerce: Percentage of Total US Ecommerce Traffic
These figures tell us that if customers like to navigate on a smartphone, they prefer to make purchases on a PC or tablet. Shopify cites as reason the small size of the screens which can not only make it difficult to enter payment data but also the good appreciation of the product.  It is clear that today, e-commerce on smartphones is very far from generating turnover from PCs and tablets. However, the possible appearance of smartphones with even larger screens could see the share of sales made with this type of device increase. At the same time, the mobile e-commerce market continues to grow with the development of new applications and an improved internet connection. For now, the gap between smartphone traffic and sales via this device remains significant.
About the author
DMTwebhosting.com's Editorial Team prides itself on bringing you the latest web hosting news and the best web hosting articles!
You could also link to the news and articles sections:
http://www.DMTwebhosting.com/blog